Agile Project Management is a Program
Agile Project Management
Self-paced
2.9 CEUs
Full program description
Program Description
Oregon State's Agile Project Management certification enables you to become a change agent within your organization. You'll lead and adapt by understanding agile project requirements and motivating operational changes that drive innovation, lower risk, improve collaboration and customer satisfaction, and deliver high quality, timely business value.
The courses in this certification program provide managers the essential foundation they need to become competent Agile practitioners. The program introduces the fundamental methodologies, practices, and key concepts of Agile. Through case studies, the learner explores the common challenges of working on an Agile team. Utilizing frameworks such as Scrum, lighter weight Agile techniques are ideal for situations in which companies must deal with vague and rapidly changing customer requirements.
The use of Agile techniques has become paramount as businesses strive to manage processes in unpredictable environments. Companies can use agile approaches to respond to organizational change, increase productivity, and meet unexpected customer needs.
As industries transition from a process-driven culture to an approach driven by customer and business values, the critical issue is no longer "if and under what circumstances" to incorporate Agile techniques. Companies now see the advantage of Agile and are integrating these techniques into their business processes and culture. Agile influences leading corporations such as Apple, Siemens, Intel, Boeing, Cisco, and GE, and broadly across industries such as engineering, product development, health care, defense, education, and commercial products.

Program Benefits
Recognize the importance of becoming Agile
Comprehend the Agile approach to project management
Understand Agile training roles and responsibilities
Learn Agile best practices and behaviors
Build an Agile environment
Apply Scrum to an Agile environment
Understand how Agile practices align with PMBOK® processes

Who Should Attend
This program is intended for professionals who wish to expand their knowledge of Agile to optimize business performance in a wide range of industries, including software development, information technology infrastructure, commercial products, healthcare, financial services, government, and high technology. The Agile certification program is often the logical next step for project and program managers, team members, and those who currently hold the Project Management Professional certificate (PMP).

Certificate Requirements
The Agile Project Management certificate is conferred upon the minimum completion of four courses with a grade point average of 'C' or better.

Refund Policy
You may request a refund for up to five days from the purchase date. The registration fee will only be refunded if less than 10% of each course in the suite has been completed. Completion percentage can be viewed on the course progress page within each course.

Information about PMI® Agile Certified Practitioner (PMI-ACP)®
To become a PMI® Agile Certified Practitioner (PMI-ACP)®, learners will need to take and pass the PMI-ACP® exam, administered by the Project Management Institute®. Oregon State's Agile Certified Practitioner (PMI-ACP)® Exam Prep course is not included in Oregon State's introductory certificate program.
Project Management Institute, PMI, the Registered Education Provider logo, Project Management Professional, PMP, Project Management Body of Knowledge, PMBOK, PMI Agile Certified Practitioner, PMI-ACP, PMI Risk Management Professional, PMI-RMP, the PMI Talent Triangle, and the PMI Talent Triangle logo are marks of the Project Management Institute, Inc.
Information in this course is based on "A Guide to the Project Management Body of Knowledge" (PMBOK® Guide) — sixth Edition, Project Management Institute Inc., 2017.
Program Structure
All courses embed an "Ask the Expert" feature to bring Oregon State University learning support to your learning. Your questions reach a subject expert, who answers as quickly as possible and usually within 24 hours.
Information in these courses is based on "A Guide to the Project Management Body of Knowledge" (PMBOK Guide) — Sixth Edition, Project Management Institute Inc., 2017.

Program Sequence
Introduction to Agile
Challenges for Agile Teams
Integrating Agile into a Waterfall Environment
Principles of Scrum

Program Design Key Features
Expert-supported
Mobile friendly
Accessible
Badge and credit-awarding
Games and flashcards
Video content
Real-world case studies
Audio-enabled in application
Program Instructor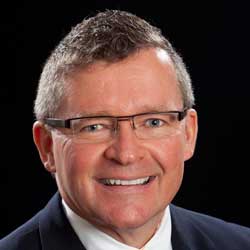 Laszlo Retfalvi, P.Eng., PMP, PMI-RMP
Laszlo is a results-driven leader with extensive private and public industry experience in delivering complex IT/IM enabled products, systems, and services. Laszlo is General Manager of Retfalvi and Associates and author of "The Power of Project Management Leadership: Your Guide on How to Achieve Outstanding Results".
Laszlo is past Vice President of the Program and Risk Management Office at Allen Vanguard Corporation. Prior to this, Laszlo held a number of senior and executive positions at General Dynamics Canada, a division of General Dynamics Corporation. Previously, Laszlo was with the Irving Group of Companies and SED Systems.
Laszlo is a frequent industry speaker at both national and international conferences and has published over 60 papers in the areas of risk and leadership. Laszlo is the developer of the Project Management Leadership Model©, a framework to develop personal project management leadership excellence.