CSS for Web Design is a Course
CSS for Web Design
Self-paced
0.3 CEUs
Full course description
Course Description
This course will introduce basic features of Cascading Style Sheets or CSS. CSS is a versatile programming language that is used to style web pages by specifying how HTML and XML documents should appear. CSS makes it possible to control the presentation of elements on a page, including their color, dimensions, position, and behavior. A series of lab exercises provide students with opportunities to practice the tools and concepts they learn throughout the course.
Key Features:
Mobile-friendly
Audio-enabled
Badge and credit-awarding
Real-world case studies
Fully accessible
Games & Flashcards
Expert-supported
Video content
Estimated time to complete: 3 hours
This course includes an "Ask the Expert" feature. You can use this feature to submit questions about the course content. A subject matter expert will provide guidance or point you to additional resources for the topics you're studying. Questions are answered as quickly as possible and usually within 24 hours.
Learners must achieve an average test score of at least 70% to meet the minimum successful completion requirement and qualify to receive IACET CEUs.
Objectives
After completing this course, you will be able to:
Use selectors and declarations to create CSS rules
Write and link an external style sheet to a webpage
Apply color to page elements using a variety of color systems
Create single and multiple classes to style elements
Select a variety of fonts and apply sizing to different page elements
Apply width and height to elements on a page
Describe the Box Model and style elements through the use of margins, padding, and borders
Arrange elements using float and apply the clear property
Create vertical and horizontal navigation bars on a webpage
Apply both link and user-action pseudo-classes
Create responsive layouts using Flexbox
Explore the use of drop shadows, drop caps, and other creative effects
Explain the importance of inheritance, rule order, and the box model
Course Instructor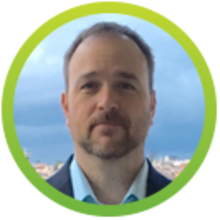 Kevin Hanegan, B.S.
Kevin is the author of 4 programming books: Building State-of-the-Art Web Pages, Custom CGI Scripting with Perl, Practical Guide to Curl, and Building Solutions with the Decision Site Analytics Platform. He has worked for a variety of software companies, universities, and corporate training centers as a course developer, trainer and consultant. He currently is Vice President of Knowledge and Learning at Qlik.