Leadership Development Certificate is a Program
Leadership Development Certificate
Self-paced
2 CEUs
Full program description
Program Description
What is leadership and why is it important? How does a leader encourage change without triggering fearful resistance? What are the key elements to leading an effective team? What is the role of charisma in leadership? How can a leader achieve work-life balance? This suite of courses addresses all of these questions and many more. The courses in this suite offer advice on leadership that can help you stand out as a leader among your peers. Video segments introduce successful leaders who discuss such issues as how leaders become leaders, leadership ethics, and the differences between leaders, managers, and administrators.

Program Benefits
Develop critical and reflective leadership abilities
Exhibit responsible decision-making and personal accountability
Demonstrate an understanding of group dynamics and effective teamwork
Improve communication and presentation skills through practice
Develop an array of leadership skills and abilities such as resolving conflict, motivating others, and effectively leading change
Gain an improved sense of social responsibility and connectedness to the larger community through service
Appreciate individual differences and increase their ability to work effectively with those different from themselves
Learn and apply leadership concepts, theory, and processes through personal leadership application as well as in groups

Who Should Attend
This program is designed for both emerging and experienced leaders in all fields and disciplines.

Certificate Requirements
The Leadership Development certificate is conferred upon the minimum completion of four courses with a grade point average of 'C' or better. Learners must achieve an average test score of at least 70% to meet the minimum successful completion requirement and qualify to receive IACET CEUs.

Program Design Key Features
Expert-supported
Mobile friendly
Accessible
Badge and credit-awarding
Games and flashcards
Video content
Real-world case studies
Audio-enabled in application

Refund Policy
You may request a refund for up to five days from the date you start each course. The registration fee will only be refunded if less than 10% of a course has been completed. The completion percentage can be viewed on the course progress page within each course.
Program Structure
All courses embed an "Ask the Expert" feature to bring Oregon State University learning support to your learning. A subject matter expert will provide guidance or point you to additional resources for the topics you're studying. Questions are answered as quickly as possible and usually within 24 hours.
Program Sequence
Introduction to Leadership
Leading Teams
Leading and Managing Change
Leaders and Work-Life Balance
Becoming a Better Leader
Program Instructor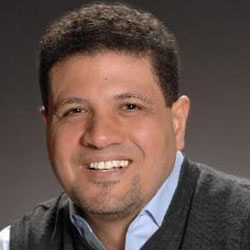 Samad Aidane, MSc. PMP
Cross-cultural Leadership Consultant, Trainer, and Coach
Samad has industry experience that spans telecom, finance, health care, and government projects in the U.S., Germany, Austria, and Belgium, with organizations such as HP, Cap Gemini, Time Warner Telecom, and Telefonica. He holds a Master of Science Degree in the Neuroscience of Leadership from Middlesex University, U.K. His current Ph.D. research in Applied Neuroscience investigates how findings from neuroscience, social science, and behavioral science can inform our understanding of the effect of culture on emotions, cognition, and behavior and their application to leadership and Cultural Intelligence development.
Samad is certified by the Project Management Institute (PMP) and a member of the Social & Affective Neuroscience Society. He has been a featured speaker for organizations such as Nike, Emirates Airlines, and T-Mobile and presented at international conferences, such as Project Management Institute Global Congresses and Oracle OpenWorld.