Leading with Cultural Intelligence Webinar & Handouts is a Course
Leading with Cultural Intelligence Webinar & Handouts
Self-paced
0.1 credits
Full course description
Webinar Description
Thank you for your interest in the Leading with Cultural Intelligence previously recorded webinar.
At OSU, we are proud to deliver practical and useful information to help you navigate the days ahead. Whether you are seeking a new path, exploring an alternative career field, or climbing the corporate ladder, our experts know a thing or two that could help along the way.
In today's globalized workplace, a 'one-size-fits-all' approach to leadership is insufficient at effectively engaging an increasingly diverse, multicultural, and international group of stakeholders. This cultural awareness webinar gave attendees a greater understanding of the challenges of leading and working in culturally diverse teams and the skills you need to prevent cultural misunderstanding. 
Enroll to view our webinar handouts to learn how to avoid accidental violations of cultural norms that erode trust and undermine the performance of your team and instead lead with intelligence and cultural awareness.
Course Instructors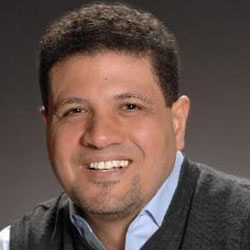 Samad Aidane, MSc. PMP
Cross-cultural Leadership Consultant, Trainer, and Coach
Samad has industry experience spans telecom, finance, health care, and government projects in the U.S., Germany, Austria, and Belgium, with organizations such as HP, Cap Gemini, Time Warner Telecom, and Telefonica. He holds a Master of Science Degree in the Neuroscience of Leadership from Middlesex University, U.K. His current Ph.D. research in Applied Neuroscience investigates how findings from neuroscience, social science, and behavioral science can inform our understanding of the effect of culture on emotions, cognition, and behavior and their application to leadership and Cultural Intelligence development.
Samad is certified by the Project Management Institute (PMP) and a member of the Social & Affective Neuroscience Society. He has been a featured speaker for organizations such as Nike, Emirates Airlines, and T-Mobile and presented at international conferences, such as Project Management Institute Global Congresses and Oracle OpenWorld.