Leading and Managing Change is a Course
Leading and Managing Change
Self-paced
0.4 CEUs
Full course description
Course Description
Whether adopting new technology or adapting to a drastic shift in an organization's core focus, change is a constant in any successful business. Managers play a fundamental role in successful effecting changes across an organization, and meanwhile, humans, by nature, will often resist change out of fear of the unknown. This introductory course addresses the key issues managers face in a dynamic environment. By understanding the steps in effecting change and how to overcome resistance, a manager can successfully lead change at various levels of an organization.
Objectives
In this course, you will learn:
Discuss organizational change and the forms it can take
Describe Kotter's Eight Step Process recommended for implementing change successfully
Outline Lewin's model of change and discuss its limitations
Identify the factors a leader or manager can employ to promote change
Outline the change initiative planning process
Explain the role of a leader in communicating change
Discuss methods to foster participation
Discuss the underpinnings of resistance to change and how to overcome it
Discuss other models of change management (ADKAR, GE CAP, Cisco Change Roadmap)
Match change management models to specific scenarios
Understand strategic change and mastering a changing environment
Key Course Features:
Mobile-friendly
Audio-enabled
Badge and credit-awarding
Real-world case studies
Fully accessible
Games & Flashcards
Expert-supported
Video content
Estimated time to complete: 4 hours

Students are required to complete this course within 90 days of enrollment.
This course includes an "Ask the Expert" feature. You can use this feature to submit questions about course content. A subject matter expert will provide guidance or point you to additional resources for the topics you're studying. Questions are answered as quickly as possible and usually within 24 hours.
Learners must achieve an average test score of at least 70% to meet the minimum successful completion requirement and qualify to receive CEUs.
Course Instructor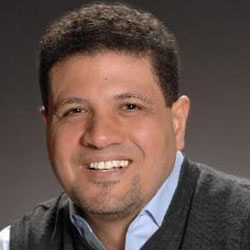 Samad Aidane, MSc. PMP
Cross-cultural Leadership Consultant, Trainer, and Coach
Samad has industry experience that spans telecom, finance, health care, and government projects in the U.S., Germany, Austria, and Belgium, with organizations such as HP, Cap Gemini, Time Warner Telecom, and Telefonica. He holds a Master of Science Degree in the Neuroscience of Leadership from Middlesex University, U.K. His current Ph.D. research in Applied Neuroscience investigates how findings from neuroscience, social science, and behavioral science can inform our understanding of the effect of culture on emotions, cognition, and behavior and their application to leadership and Cultural Intelligence development.
Samad is certified by the Project Management Institute (PMP) and a member of the Social & Affective Neuroscience Society. He has been a featured speaker for organizations such as Nike, Emirates Airlines, and T-Mobile and presented at international conferences, such as Project Management Institute Global Congresses and Oracle OpenWorld.