Leaders and Work-Life Balance is a Course
Leaders and Work-Life Balance
Self-paced
0.3 CEUs
Full course description
Course Description
Why can it be so difficult to balance our work with our personal lives? And can these pressures be managed in a way that can make you more successful at both? Yes. This introductory course is meant for anyone who recognizes work-life balance as a skill and wants to improve their ability to create this balance. This course looks at methods and techniques to reconcile work and family. You will also consider the question of personal fulfillment and the needs and demands of leadership.
Objectives
In this course, you will learn:
Identify the major sources of work-life balance conflict
Discuss the myths about work-life balance
Identify strategies to achieve balance
Recognize ways to maintain work-life balance
Examine what defines personal fulfillment
Identify those significant elements that play a role in a leader's life
Identify nine ways of viewing life's choices
Develop and complete a Personal Work-Life Balance Plan
Key Course Features:
Mobile-friendly
Audio-enabled
Badge and credit-awarding
Real-world case studies
Fully accessible
Games & Flashcards
Expert-supported
Video content
Estimated time to complete: 3 hours

We recommend completing these hours within 90 days of enrollment. 
This course includes an "Ask the Expert" feature. You can use this feature to submit questions about course content. A subject matter expert will provide guidance or point you to additional resources for the topics you're studying. Questions are answered as quickly as possible and usually within 24 hours.
Learners must achieve an average test score of at least 70% to meet the minimum successful completion requirement and qualify to receive CEUs.
Course Instructor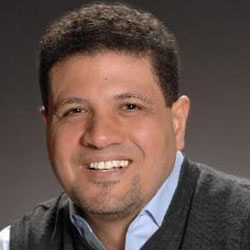 Samad Aidane, MSc. PMP
Cross-cultural Leadership Consultant, Trainer, and Coach
Samad has industry experience that spans telecom, finance, health care, and government projects in the U.S., Germany, Austria, and Belgium, with organizations such as HP, Cap Gemini, Time Warner Telecom, and Telefonica. He holds a Master of Science Degree in the Neuroscience of Leadership from Middlesex University, U.K. His current Ph.D. research in Applied Neuroscience investigates how findings from neuroscience, social science, and behavioral science can inform our understanding of the effect of culture on emotions, cognition, and behavior and their application to leadership and Cultural Intelligence development.
Samad is certified by the Project Management Institute (PMP) and a member of the Social & Affective Neuroscience Society. He has been a featured speaker for organizations such as Nike, Emirates Airlines, and T-Mobile and presented at international conferences, such as Project Management Institute Global Congresses and Oracle OpenWorld.