Strategic Marketing for Entrepreneurs is a Course
Strategic Marketing for Entrepreneurs
Self-paced
0.5 CEUs
Full course description
Course Description
This course reviews the strategic issues that an entrepreneur faces while starting a new venture or business, and highlights the questions about market acceptance that must be answered during every stage of the entrepreneurial process.
Key Features:
Mobile-friendly
Audio-enabled
Badge and credit-awarding
Real-world case studies
Fully accessible
Games & Flashcards
Expert-supported
Video content
Estimated time to complete: 5 hours
Students are required to complete this course within 90 days of enrollment.
This course includes an "Ask the Expert" feature. You can use this feature to submit questions about the course content. A subject matter expert will provide guidance or point you to additional resources for the topics you're studying. Questions are answered as quickly as possible and usually within 24 hours.
Learners must achieve an average test score of at least 70% to meet the minimum successful completion requirement and qualify to receive IACET CEUs.
Objectives
After completing this course, you will be able to:
Describe the role of strategy and marketing in an entrepreneurial setting
Discuss the basics of strategy, including the three levels of strategy and the five competitive forces identified by Michael Porter
Explain marketing basics, including the marketing process and the Four P's
Discuss the role of marketing in the discovery stage of a new venture
Describe the evaluation of the market for a new venture, including market segmentation, target marketing, and exploring customer needs
Discuss the role of strategic planning in the entrepreneurial process
Describe the key elements of a marketing plan
Outline the factors for success in creating a new venture business plan
Course Instructor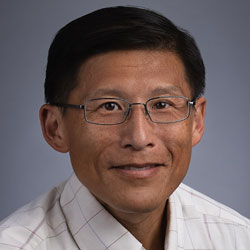 Tze-Yiu Yong
Tze-Yiu Yong has over 25 years of professional experience as an engineer, manager and project manager in the areas of high tech, healthcare, machine learning and academia. He has managed projects in all functions of the organization including R&D, operations, IT and marketing, and he currently works as a project manager at Oregon State University. Here he drives programs related to student recruitment and retention, online learning, and student success analytics. Passionate about raising the awareness of the necessity of project managers, he also currently serves as the Vice President of Marketing for a regional chapter of the Project Management Institute in Oregon where he calls home.