B2B and Account Based Marketing is a Course
B2B and Account Based Marketing
Jan 8, 2024 - Feb 18, 2024
2.4 CEUs
Full course description
Course Description
Business-to-business (B2B) transactions (the process where one company buys products or services from another) make up the majority of business transactions. That's why growth-oriented marketers need an understanding of B2B marketing essentials while tracking vendor interactions across the purchase journey to impact pipeline in target accounts. In our B2B and Account Based Marketing course, you will study these critical areas and consider the multiple ways you present your organization and brand to other businesses.  
In our expert-led online course, you will gain data insights on proven B2B marketing strategies and target account purchase intents that can shape strategy in dynamic ways. You'll also understand the unique needs of those company contacts you may be targeting — depending on your product or service, your target audience could include functional groups, procurement/purchasing staff, mid-level managers, and/or c-suite executives. As soon as a target shows interest in your category or hits your website, you can customize each subsequent digital interaction and trigger sales early. 
Objectives
Understand crucial strategies for engaging with difficult-to-reach, but high-value businesses.
Differentiate between B2C and B2B marketing strategies.
Identify a total addressable market (TAM) and ideal customer profile (ICP).
Create aligned marketing content for social, mobile, and web platforms aimed at B2B customers.
Develop an effective marketing plan that strategically identifies business needs and relationship development.
Gain insights into target account purchase intent and engagement for both anonymous and registered stakeholders.
Learn why consistency makes it likely for buyers to engage in sales outbounding.
Course Instructor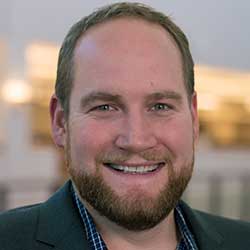 Jeff Marcoux
Vice President of Product Marketing & Customer Experience Solutions at Teletech
Jeff is focused on helping brands deliver experiences that reflect the very best of humanity. He has driven cross product and team collaboration, digital transformation, supported multiple product releases, bringing new products to market, innovative marketing strategies, channel development, and acquisition integration work. He believes that every touch point with a customer is a marketing experience- from marketing to sales to customer service. Jeff is a marketing growth hacker, CX evangelists, martech expert, and brings entrepreneurial innovation to a big tech world.
Additionally, Marcoux is a prominent customer experience and marketing speaker, and an adjunct professor of marketing for UC Irvine & Oregon State University. He attended the University of Washington where he received his MBA in Leadership and Certificate in Technology Entrepreneurship.