Transmedia Storytelling is a Course
Transmedia Storytelling
Jan 9, 2023 - Feb 20, 2023
2.5 credits
Full course description
Course Description
Storytelling is key to communicating your message and brand, but the way we share these stories has changed drastically over the years. Our Transmedia Storytelling course helps you develop your skills in storytelling and apply those to a variety of formats and media, allowing you to reach and impact your audience, no matter where they may be.
Stories help provide context for your audience beyond their knowledge of your brand. Transmedia storytelling helps you highlight critical information, backstory, and details through multiple forms of media.
In this expert-led online course, you'll consider and construct your multiple narratives and develop strategies to deploy these stories across a variety of genres that include video, web content, mobile content, social networks, and games. In the end, you will create an engaging and immersive experience that reaches your audience and builds loyalty in innovative ways.
Required Material:
Multiscreen Marketing: The Seven Things You Need to Know to Reach Your Customers across TVs, Computers, Tablets, and Mobile Phones, by Natasha Hritzuk and Kelly Jones (IBSN-13: 978-1118899021)
Objectives
Demonstrate an understanding of the difference between mono, multi and transmedia storytelling
Create a compelling transmedia narrative for a brand of your choice
Identify multiple media types that are appropriate to the narrative being created
Build a transmedia storytelling strategy for a business
Course Instructor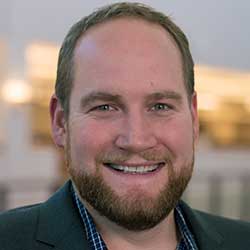 Jeff Marcoux
Vice President of Product Marketing & Customer Experience Solutions at Teletech
Jeff is focused on helping brands deliver experiences that reflect the very best of humanity. He has driven cross product and team collaboration, digital transformation, supported multiple product releases, bringing new products to market, innovative marketing strategies, channel development, and acquisition integration work. He believes that every touchpoint with a customer is a marketing experience- from marketing to sales to customer service. Jeff is a marketing growth hacker, CX evangelists, martech expert, and brings entrepreneurial innovation to a big tech world. Additionally, Marcoux is a prominent customer experience and marketing speaker, and an adjunct professor of marketing for UC Irvine & Oregon State University. He attended the University of Washington where he received his MBA in Leadership and Certificate in Technology Entrepreneurship.