Digital Brand Strategies is a Course
Digital Brand Strategies
Jan 9, 2023 - Feb 20, 2023
2.5 credits
Full course description
Course Description
Digital Brand Strategies is an overview of digital communication and interactive experiences for brands. You'll learn how to gather existing information and perceptions about a brand and explore what opportunities exist for telling a brand's story in technology-rich environments through websites, social media, email, internet searches and mobile devices.
Consequently, content in the course relies on real-world case study assignments that involve creative thinking, problem solving and interaction with your fellow students and instructors. In the spirit of 21st-century business practice, we're offering each course online and drawing on webinars, Google Hangouts and our media-rich e-learning platform to keep you engaged and allow flexible scheduling options for working professionals. Large or small, a brand should connect to consumers in a way that is relevant and engages the target audience. Use this information to hone your brand management skills and develop a digital marketing strategy that will set your company or organization apart from the competition.
Required Material:
Does it Work? 10 Principles for Delivering True Business Value in Digital Marketing, by Shane Atchison (ISBN-13: 978-0071847865)
Objectives
Analyze current strategies used by brands to drive customer demand, awareness, and engagement
Trends in consumer behavior.
Common steps and processes related to planning, executing and reporting on digital marketing strategies.
Classify and evaluate components to digital marketing objectives including techniques, platforms, metrics, and analytics.
Course Instructor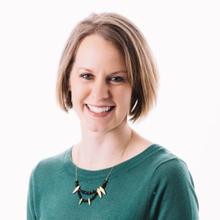 Lynn Makela
Business Development Director at Apiary
Lynn Makela connects marketing, leadership, and brand strategy. With over 12 years of digital advertising experience and diverse background in search, analytics, optimization, design, and social media strategies, she is an accomplished business strategist and entrepreneur. As director of business development for Apiary Digital, she curates teams of digital marketing professionals to achieve business objectives. Her client list includes Microsoft, Tableau, Invisalign, Pella Windows and Doors, and many others. When she isn't helping clients, she's playing with her three K9 fur kids and working on a remodel project.