Social Media Marketing is a Course
Social Media Marketing
Sep 18, 2023 - Oct 29, 2023
2.4 CEUs
Full course description
Course Description
Using social media in marketing is practically a requirement in today's highly connected digital world. But it can be confusing and complex to dive into social media marketing without some foundation in the basics. This course focuses on teaching the principles, best practices, and strategies for incorporating social media into a marketing plan. The first module teaches the various ways that social media can be used for marketing, including defining a clear brand voice, improving reputation, and engaging with customers. The course then looks at the practical way marketers can incorporate social media activities into a focused marketing plan. Learners identify how to integrate their social media with mobile, a hub website, and email marketing. They also learn how to use strategic metrics for tracking success.
Objectives
Define social media, name several platforms, and explain the benefits and drawbacks of using each platform.
Create a content marketing plan that addresses audience, tone, relevance, frequency, and quality of content.
List the spheres of reputation according to the Harris Poll and explain how social media can be used to manage each sphere of an organization's reputation.
Describe why and how a company should monitor social media
Explain various strategies for engaging with audiences via social media, and the aims of each form of engagement.
Set social media marketing objectives that correlate to specific sales and growth goals.
Describe how to integrate social media with mobile, email, and a hub website, and describe the advantages. Demonstrate the difference between organic and paid reach, and list the factors that influence reach on various social media platforms.
Explain how to reach influencers and name at least two relevant influencers in the learner's industry.
Quantify the time and human capital that will be devoted to the learner's social media marketing campaign based on his or her organization's size.
Course Instructor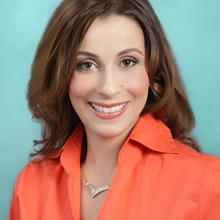 Mirna Bard
Mirna Bard is an internationally recognized social business and digital strategy consultant, mentor, and educator. She contributed the introductory chapter to the "The Big Book of Social Media Case Studies, Stories, Perspectives."
As a highly regarded business adviser and digital strategy consultant, Mirna inspires organizations and executives around the globe to leverage the Internet, so they can attract more powerful opportunities to their business.
Since the beginning of her career, Mirna has been employed at prestigious advertising agencies and top organizations. Since 1996, she's worked with numerous brands, such as Taco Bell, Washington Mutual, Hilton Hotels, Taylor Made, Toshiba, Hoag Hospital, Kawasaki, Merrill Lynch, Avery, UCI, Ed Hardy, and Guess.
Throughout Mirna's career, her clients have constantly praised her genuine down-to-earth nature, energy, passion, consistency, reliability, resourcefulness, thoroughness, attention to detail, and hype-free approach.
Mirna is now focusing on helping aspiring consultants start, grow, and scale consulting businesses through her popular online program, Consult to Profit™.