Target Segment Analysis is a Course
Target Segment Analysis
May 15, 2023 - Jun 25, 2023
2.4 CEUs
Full course description
Course Description
In this expert-led online course, you will discover how audience segmentation plays a role in a larger marketing strategy and learn how to best segment and engage users across email, social, paid search platforms and outbounding efforts. You'll learn how to identify subgroups within the target audience to deliver more tailored messaging and build stronger connections. By segmenting in markets, you'll identify target markets, group prospects and create focused marketing campaigns. The techniques and best practices gained will benefit the campaigns on ad platforms such as Google AdWords and Facebook.
Objectives
Define audience segmentation and demonstrate tools for researching and building profiles.
Tailor marketing strategy to the characteristics, needs and values of audience segments to improve the chances for desired behavior change.
Identify appropriate social media outlets for targeted audiences and goals.
Use data to improve your marketing, product, sales, and customer success strategy.
Evaluate the effectiveness of user-centric marketing strategy through case studies.
Conduct content analysis research.
Create a proposal appropriate for a client or leader that demonstrates an understanding of audience profiling, marketing strategy, social environment, environmental influences, and evaluation metrics.
Course Instructor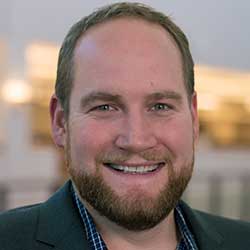 Jeff Marcoux
Vice President of Product Marketing & Customer Experience Solutions at Teletech
Jeff is focused on helping brands deliver experiences that reflect the very best of humanity. He has driven cross product and team collaboration, digital transformation, supported multiple product releases, bringing new products to market, innovative marketing strategies, channel development, and acquisition integration work. He believes that every touchpoint with a customer is a marketing experience- from marketing to sales to customer service. Jeff is a marketing growth hacker, CX evangelists, martech expert, and brings entrepreneurial innovation to a big tech world.
Additionally, Marcoux is a prominent customer experience and marketing speaker, and an adjunct professor of marketing for UC Irvine & Oregon State University. He attended the University of Washington where he received his MBA in Leadership and Certificate in Technology Entrepreneurship.