Marketing Analytics and Measurement is a Course
Marketing Analytics and Measurement
Nov 13, 2023 - Dec 17, 2023
2.4 CEUs
Full course description
Course Description
This course explores marketing analytics practices and tools and helps learners develop a solid understanding of the basic concepts and techniques that they will encounter as practitioners in the marketing automation field. Digital marketing and e-commerce professionals are expected to analyze data from various sources — such as web pages, digital marketing channels and e-commerce sites — and use them to gain customer insights.
You'll create media plans and set performance goals. You'll learn how to measure, manage and analyze data from marketing campaigns using Google Analytics, Google Ads, and similar tools. Then, learn how to adjust a marketing budget according to insights extracted from key metrics. You'll use A/B test results to optimize a campaign and identify metrics that define a campaign's success. You'll be able to analyze and visualize data and insights in spreadsheets and prepare presentations to share campaign progress or results with stakeholders.
Finally, you'll learn how to use the application's tools to uncover marketing and sales data, attract web traffic, increase conversions and create targeted marketing campaigns.
Objectives
Plan and allocate the spending of marketing budgets.
Describe the unique role of performance goals and key performance indicators (KPIs) in marketing campaigns.
Describe how tools like Google Analytics and Google Ads are used to measure website and ad campaign performance.
Describe how to determine the return on investment (ROI) or return on ad spend (ROAS) of a marketing project.
Prepare, conduct, and analyze the results from an A/B test to optimize a marketing campaign.
Apply spreadsheet features like sorting, filtering, and pivot tables to prepare data to be shared.
Create charts in spreadsheets for visualization of metrics.
Course Instructor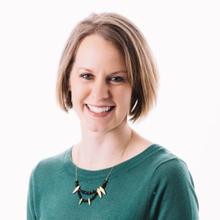 Lynn Makela
Business Development Director at Apiary
Lynn Makela connects marketing, leadership, and brand strategy. With over 12 years of digital advertising experience and diverse background in search, analytics, optimization, design, and social media strategies, she is an accomplished business strategist and entrepreneur. As director of business development for Apiary Digital, she curates teams of digital marketing professionals to achieve business objectives. Her client list includes Microsoft, Tableau, Invisalign, Pella Windows and Doors, and many others. When she isn't helping clients, she's playing with her three K9 fur kids and working on a remodel project.