Content Marketing Strategy is a Course
Content Marketing Strategy
Nov 7, 2022 - Dec 12, 2022
2.5 credits
Full course description
Course Description
Even as new platforms, technologies, and devices offer innovative ways to reach consumers, the content remains the fundamental building block of marketing strategy. Led by Jeff Marcoux, our Content Marketing highlights the essentials that can make the difference in advancing your own career or business, including: 
Best practices for building an editorial/production calendar
Content marketing goals, objectives, and metrics 
Optimization of content for social, mobile, web and more
Deployment of content that aligns your marketing strategy with the buyer's journey 
In this expert-led online course, you'll build the knowledge and skills needed to design, develop and deploy high-visibility content on behalf of your organization. 
Required Material:
Epic Content Marketing: How to Tell a Different Story, Break through the Clutter, and Win more Customers by Marketing Less, by Joe Pulizzi (ISBN-13: 978-0071819893)
Objectives
Create actionable content marketing goals and objectives
Identify and segment content to support the buyer journey
Manage the content development cycle
Understand how to build a content marketing team
Optimize content for search, social and mobile
Distribute and promote content through the digital and social web
Produce and manage an editorial calendar
Drive sales and marketing alignment around content marketing
Course Instructor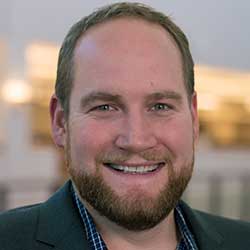 Jeff Marcoux
Vice President of Product Marketing & Customer Experience Solutions at Teletech
Jeff is focused on helping brands deliver experiences that reflect the very best of humanity. He has driven cross product and team collaboration, digital transformation, supported multiple product releases, bringing new products to market, innovative marketing strategies, channel development, and acquisition integration work. He believes that every touchpoint with a customer is a marketing experience- from marketing to sales to customer service. Jeff is a marketing growth hacker, CX evangelists, martech expert, and brings entrepreneurial innovation to a big tech world. Additionally, Marcoux is a prominent customer experience and marketing speaker, and an adjunct professor of marketing for UC Irvine & Oregon State University. He attended the University of Washington where he received his MBA in Leadership and Certificate in Technology Entrepreneurship.