Developing a Social Media Plan is a Course
Developing a Social Media Plan
Sep 12 - Oct 24, 2022
2.5 credits
Full course description
Course Description
With the rise and popularity of social media platforms, we all understand that social media is not a fad, but part of personal and business life.
Building a scalable strategy that integrates all business processes, has not only become important, but critical for any size business that wants to communicate and build a relationship with its audience.
With this expert-led online course, you'll learn how to implement a complete three-step strategic framework and create a scalable social media strategy to gain a complete understanding of the POST (people, objectives, strategy, and technology) process.
During the course, you'll explore cohesive strategies that integrate social media marketing into sound business practices and methodologies for implementing tactics and social media channels to achieve organizational business and brand objectives.
In essence, this course can help you quickly master digital marketing and social media.
Who Should Learn Social Media Marketing?
All business professionals will benefit from understanding the importance of social media and how it plays a role in business processes, such as:
Marketing and advertising
Communication and public relations
Customer service
Human resources
If you're already in marketing and communications, or tasked with planning and integrating social media into your organizations, this course can accelerate your results and give you the confidence to take action and represent your brand.
If you're not in marketing and communications, this course can be your way in, by applying what you learn and showing value.
Required Textbooks
None. Materials will be provided throughout the course.
Objectives
Develop a sustainable and scalable social media strategy.
Select appropriate channels, tools, platforms, and applications for the effective use of social media.
Set appropriate measurable objectives for your organization.
Determine elements of social media policy.
Determine the content marketing micro-plan.
Present appropriate success measures and metrics.
Course Instructor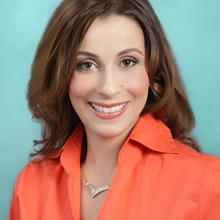 Mirna Bard
Mirna Bard is an internationally recognized social business and digital strategy consultant, mentor, and educator. She contributed the introductory chapter to the "The Big Book of Social Media Case Studies, Stories, Perspectives".
As a highly regarded business adviser and digital strategy consultant, Mirna inspires organizations and executives around the globe to leverage the Internet, so they can attract more powerful opportunities to their business.
Since the beginning of her career, Mirna has been employed at prestigious advertising agencies and top organizations. Since 1996, she's worked with numerous brands, such as Taco Bell, Washington Mutual, Hilton Hotels, Taylor Made, Toshiba, Hoag Hospital, Kawasaki, Merrill Lynch, Avery, UCI, Ed Hardy, and Guess.
Throughout Mirna's career, her clients have constantly praised her genuine down-to-earth nature, energy, passion, consistency, reliability, resourcefulness, thoroughness, attention to detail, and hype-free approach.
Mirna is now focusing on helping aspiring consultants start, grow, and scale consulting businesses through her popular online program, Consult to Profit™.