Planning In-house DEI Initiatives and Training is a Course
Planning In-house DEI Initiatives and Training
Self-paced
0.1 CEUs
Full course description
Webinar Description
Thank you for your interest in the Planning In-House DEI Initiatives and Training webinar.
At OSU we are proud to be able to deliver practical and useful information to help you navigate the days ahead. Whether you are seeking a new path, exploring an alternative career field, or climbing the corporate ladder, our experts know a thing or two that could help along the way.
During a crisis, it takes all of us working together to advance meaningful change, which is why the OSU Center for Advancing Diversity, Equity and Inclusion in Business and Continuing and Professional Education offer training, consultation, and resources to support you on this journey.
After you review our free webinar, you will leave with the following key takeaways:
Understanding why DEI matters to the company is a necessary foundation for any DEI initiative (16:47)
Avoid common pitfalls to DEI work, such as a focus on short-term reform (rather than transformative change), lack of accountability from leadership, tokenism, and more (27:49)
Strategies for success include keeping a focus on organizational goals, conducting and reviewing survey data, developing a plan with metrics, and adapting implementation as needed (38:44)
Custom Training
Interested in advancing equity at your workplace? We offer individualized consulting and workshops that can be conducted in-person or remotely. For more information, contact us via email or at 541-737-1818.
Center for Advancing Diversity, Equity and Inclusion in Business
This session is sponsored by the OSU Center for Advancing Diversity, Equity and Inclusion in Business, which empowers students, alumni, business professionals and organizations with strategies, research and training to foster inclusiveness. Learn more about the center and how to contribute to our community.
Webinar Instructor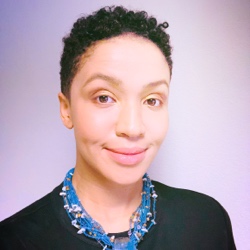 Marla Parker, PhD
Assistant Professor, California State University-Los Angeles
Marla Parker is a teacher, researcher, coach, and advisor with academic and practical experience in public administration and higher education, particularly in the areas of cultural competency, human resource management, leadership, collaboration, and entrepreneurship. In addition to professional training and teaching courses at CSU-LA, she is also a co-founder of the Civic and Social Innovation Group on campus, which promotes the use of innovation for social change.